Meet the Class of 2019's Valedictorian: Abigail Pomeranz
Running from club meetings to play rehearsal to basketball practice to dance practice doesn't sound easy, but Abigail Pomeranz makes it look like it is. Oh, also while consistently excelling academically. This is a typical day in the life of the Tenafly senior, who is the Class of 2019's valedictorian, as she has the highest grade point average of the graduating class.
"My initial reaction [to the announcement of valedictorian] was surprise," said Pomeranz. "I had no expectation of being valedictorian." Pomeranz exudes humility in her nature and expression. For the past four years, she has been dedicated to her studies and extracurriculars, which are almost countless, never once putting herself above others.
Planning to attend Tufts University in the fall of 2019, Pomeranz will be going in with an undecided major. "I have no idea what major or career I want to pursue, so I am excited to figure that out in college," she said.
Part of what makes Pomeranz's high school career exceptionally impressive is her involvement in numerous activities of all different types. Of her extracurriculars, she especially treasures the time she spends in the arts. "At this point, I would say I associate the most with theater and dance, although all of my activities are very important and formative," said Pomeranz. "Theater and dance have been such significant and positive parts of my non-academic life. Throughout high school, they have grown as parts of my identity and passions that I want to pursue past high school."
With that being said, one of the most significant points Pomeranz emphasized when discussing what makes an enjoyable high school career is involvement in school activities. "I could not possibly overstate the amazing impact that being involved in a variety of groups within the school has had on my high school experience," said Pomeranz. "A high school education should not be confined to the classroom."  
When she's not hopping from activity to activity, Pomeranz enjoys spending her time with friends, baking, dancing, and reading. "First and foremost, time management is the key to it all," she said. "My busy schedule has taught me to juggle activities with responsibilities, and how to maximize productivity in minimal time. It has also taught me that it is only possible to maintain such a busy schedule when everything I am doing is genuinely enjoyable, because that makes it worthwhile."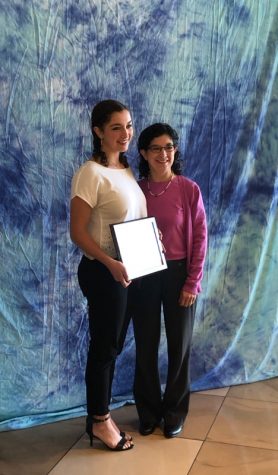 From AP U.S. History to the Peers program in THS, Abigail has continuously proven her dedication and strong work ethic. "She is a perfect balance of, more or less, opposites," said Pomeranz's AP U.S. History teacher, Mr. Hegarty. "She is competitive and gracious, driven and patient, outspoken and attentive, and fun-loving and serious—the ideal student and classmate."
She is not new to this, however. At the religious day school she attended from her elementary years through the end of middle school, she was the valedictorian of the 2015 eighth grade class as well. Coming into a new school in a new town only provided her with more access to resources and experiences. "Tenafly High School has taught and given me so much," said Pomeranz. "Academically, I know I have received such a great education and I have been so fortunate with my teachers. Outside of academics, the community that I have been a part of for the past four years is comprised of some of the most incredible people. My friends and peers have given me the best possible high school experience. Additionally, Tenafly High School has given me endless opportunities to participate in a plethora of clubs, sports, and productions. I have been able to pursue such a variety of passions in this school that have allowed me to harvest skills and experiences that contribute so much to my life."
Along with a plaque with her picture hung on a wall, Pomeranz will have left an indelible mark on Tenafly High School. "Her consistent, exemplary levels of conduct, commitment, and sacrifice make her among the most admirable students that I have had in my career," said Mr. Hegarty.`
About the Writer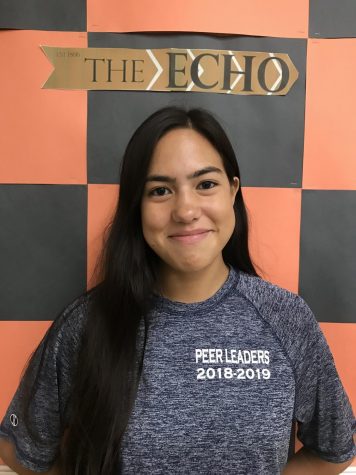 Alessandra Bontia, Staff Writer
Alessandra Bontia ('19) is a staff writer for The Echo. She enjoys listening to and discovering new music, learning more about pop culture, and being...