Devastating Fires Rip Through the Amazon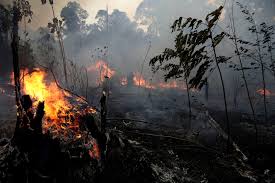 Vicious fires have been raging through the Amazon rainforest for the past month, and Brazil has officially declared a state of emergency. These fires have ravaged the homes of tribes in the region and are seriously threatening the many species of wildlife in that habitat.
While Brazilian president Jair Bolsonaro has claimed that these fires were caused by non-governmental organizations in retaliation for funding cuts, the growing consensus is that Bolsonaro's own policies, which emphasize capitalism over the environment, played a large role in amplifying the growth of these fires, which currently number some 2,500 and are also spreading to Bolivia and Paraguay. Beyond the direct area affected by the fires, the burning of the Amazon would drastically affect the world on a global scale, as it produces 20% of the world's oxygen, contains 10% of the world's biodiversity, and plays a major role in regulating our climate. Climate is a critical factor to examine in this situation because as the number of active fires goes up, so do greenhouse gas emissions, increasing the global temperature overall.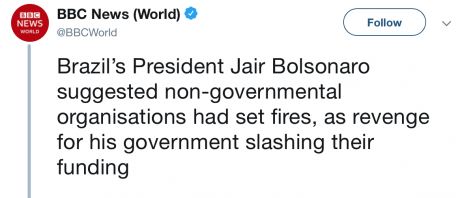 Bolsonaro is currently mobilizing the Brazilian army to combat the flames, and there is rain predicted on September 10th, which will hopefully provide some relief. As for international support, Bolsanro rejected $20 million from the G7 countries (Canada, France, Germany, Italy, Japan, United Kingdom, United States) because of his disapproval of French president Emmanuel Macron's comments concerning Brazilian domestic policy. Canada still vows to help the effort, offering $15 million and water bomber planes. At the G7 Summit held in late August, Bolsanro accepted the $20 million aid package and tweeted that Brazil is committed to environmental protection. 
Apple's CEO, Tim Cook, has also rallied to the cause, tweeting this: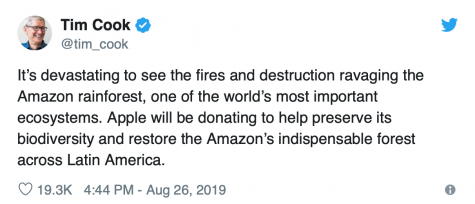 The hashtags #ActForTheAmazon, #AmazonRainforest, and #PrayForAmazon have all been trending on Twitter. Protests began two weeks ago and many on social media are calling out billionaires for failing to donate. 
Some ways you can help the cause are through donating to the following organizations:
Additionally, you can reduce your paper, wood, and beef consumption, check with Rainforest Alliance to see if what you're buying is rainforest-safe, use Escocia.org instead of your traditional search engines, and explore Change.org petitions, as well as Greenpeace's petition urging the Brazilian government to save the Amazon and protect the lands of indigenous communities. 
About the Writer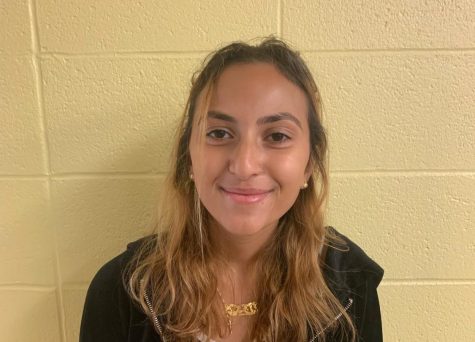 Nicole Shaker, Co-Editor-in-Chief
Nicole Shaker ('20) is 2018-2020 Co-Editor-in-Chief of The Echo, alongside Kathryn Zheng. She loves to write about entertainment and is excited to have...