Green Day, Weezer, and Fall Out Boy Team Up for 2020 Super Tour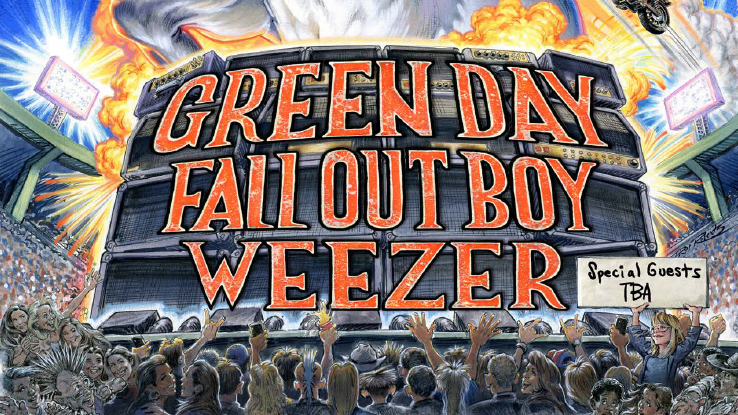 Powerhouse alt-rock bands Green Day, Weezer, and Fall Out Boy have just announced that they will embark on the "Hella Mega Tour," presented by Harley Davidson, in the summer of 2020. This exciting (and quite random) announcement was accompanied by the release of a new single from each band, generating much hype around the three new projects from each artist coming soon.
The three bands have been enigmatically teasing the tour for months preceding this announcement, posting cryptic pictures/videos together and funding billboards like this one: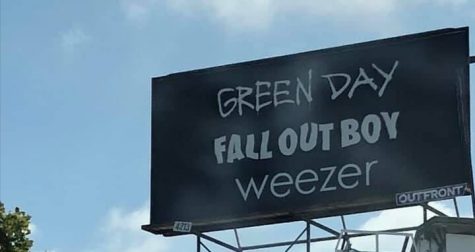 This stacked line-up has produced much excitement from the three fanbases, who oftentimes overlap. I know I'm a massive fan of all three bands, who are certified veterans in the punk-rock scene, and I'm definitely going to catch one of these concerts. So far (there will most likely be more shows added in the future), here are the dates and locations which the bands are advertising: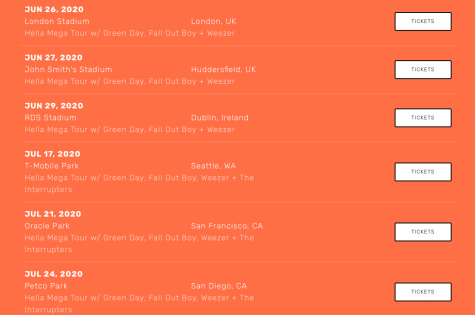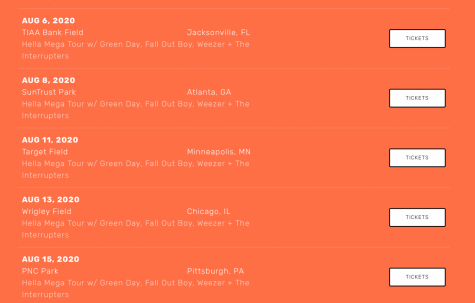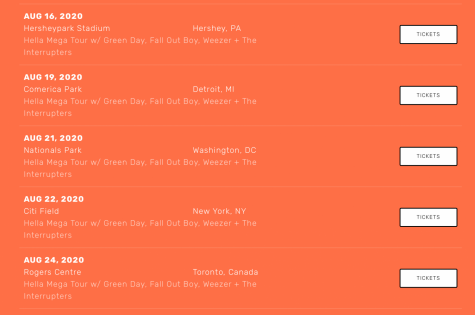 All three bands will perform at 29 shows, Green Day and Weezer will perform at an additional three, and Green Day alone will perform at an additional 12. During the North American leg of the tour, The Interrupters, a ska punk band who will also be releasing a new album, will act as the opening band.
Although some fans are upset over the underwhelming VIP packages (the most expensive one is $650 and does not even include a meet-and-greet), the majority of the responses to the tour announcement and single releases have been overwhelmingly positive. Green Day released "Father of All…" off of their upcoming album Father of All M—, Weezer released "The End of The Game" off of their upcoming album Van Weezer, and Fall Out Boy released "Dear Future Self (Hands Up)" with Wycoff Jean and announced their second compilation album in a decade, Believers Never Die Volume Two.
Green Day's single definitely received the most negative response, most likely because of the shock it gave long-time fans; it is totally different from anything you've ever heard from Green Day, particularly because of Billie Joe Armstrong's highly-edited, high pitched vocals, which some say are ear-piercing and vexingly superficial. I, for one, don't mind this new direction; this was my favorite out of all three songs released. Armstrong said of the new album in an Altpress interview, "There's a lot of depression, but with a sense of humor. But also just kind of the way the world works right now where everything is, I think it's just, we live in just the time of complete and total chaos-or else we've always been, but now it's turned up to Trump. So it's just trying to reflect what's going on."
Weezer seems to have generally won with the public response, and I can easily see why. "The End of The Game" has a glorious aura surrounding it—it's vintage-sounding, guitar-driven, and River Cuomo's vocals have never sounded better. It tells the sweet story of a loving fling with an extraordinary girl named Suzie, and it sounds like exactly something you'd hear in an old video game or movie. I truly love the feel-good and fun nature of this song. Plus, it's insanely catchy.
Fall Out Boy's song is also well-done. Patrick Stump sounds incredible when he sings the fast-paced, high-pitched chorus, reminiscent of refrains you'd here on Fall Out Boy's 2015 album American Beauty/American Psycho, especially on "Uma Thurman." My one complaint is that Fall Out Boy seems to be heavily relying on features lately, and I feel that, although I don't mind listening to Wyvoff Jean rap, the song doesn't necessarily need so much of him; Fall Out Boy sounds great on its own, and I can't help but think the song would be even better if it was just them. I do agree with their decision to put out a compilation album rather than a full new album, as I do think they need time to regroup and really think about their next record, as, in my opinion, their last release could have been much stronger.
All in all, this announcement and the songs that accompanied it are very good news. Local Tenafly student Ariana Bondi ('20) said, "This is awesome news. I'm so excited because they're all such good bands and I think they'll put together really cool shows." I'm excited to see if any more singles come out to promote the tour and what songs Fall Out Boy decide to include on their compilation album. Based on this announcement alone, 2020 looks to be a very exciting year for punk fans.

About the Writer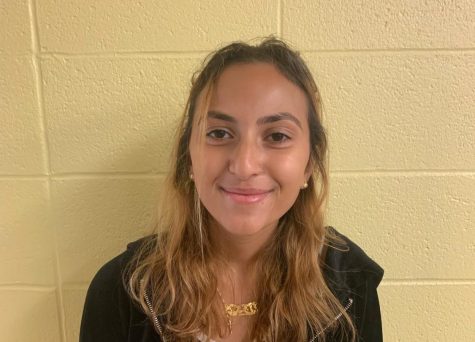 Nicole Shaker, Co-Editor-in-Chief
Nicole Shaker ('20) is Co-Editor-in-Chief of The Echo, alongside Kathryn Zheng. She loves to write about entertainment and is excited to have her pieces...