Gucci Exploits Mental Illness in Spring/Summer 2020 Collection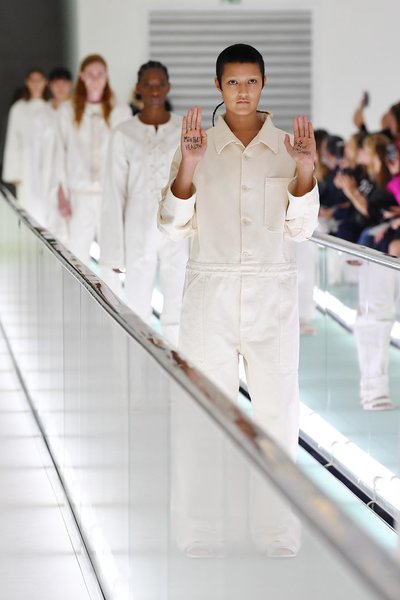 In yet another desperate attempt to comment on the state of mental illness in Western society, Alessandro Michelle, the head menswear/womenswear designer of the Italian luxury fashion house, Gucci, felt that it was of utmost importance to present the brand's interpretation of straitjackets on the runway during Milan fashion week on Sunday, September 22. This showcase of luxury inspired straitjackets were all based upon Michelle's underlying vision to encapsulate uniformity in Western culture. Despite Michelle's earnestness in his intentions, his decision to ultimately use mental illness solely for aesthetic purposes of the show was deemed by many who were in attendance as both insensitive and tasteless.  
Not only did the show receive a sizable amount of backlash from its attendees, but Gucci's Spring/Summer 2020 presentation was also scorned by one of its own models, Ayesha Tan-Jones, who happened to be wearing one of the straitjackets during the show. Jones, the first model to be showcased during the introduction, stood silently on the conveyor belt (as shown) and protested the brand's exploitation of mental illness by holding both her hands up so viewers could read the message on her palms that stated "mental health is not fashion." The matter of mental illness struck close home to Jones because she has witnessed family members struggle with conditions such as depression and anxiety disorders. After the show, Jones made it explicitly clear in interviews that the issue of mental illness should not be taken lightly, especially in 2019, when the number of suicides continues to grow at a rampant rate globally. 
Overall, the show was largely unfocused and the demonstration of these re-imagined straitjackets being introduced in the beginning of the show aesthetically obscured the rest of the clothing that soon followed. The show's introduction felt mostly out of place compared to how the rest of the clothes were presented, which managed to stay true to Michelle's previous work and Gucci's heritage. The lighting also remained inconsistent during the show's introduction, which lasted only five minutes, as the overhead lighting flickered on and off frequently. Although Gucci's Spring/Summer 2020 Womenswear presentation faced reverberations by the media and some members who were in attendance, it was still highly praised by critics and dedicated followers of Alessandro Michelle.