Women's March: Every Year in January a Day to Fight Back Fear
On Saturday, January 20th, the annual Women's March took place in countless cities, one of them being New York City. The NYC protest lasted from 12:30 a.m. to 3:00 p.m. and was located near 72nd and Central Park West. A considerable number of people joined, with an estimate of at least 20,000 attending, and they held thousands of signs and continuously chanted, all demonstrating for the same cause of equality.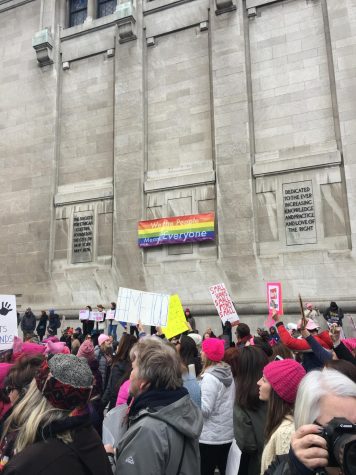 The Women's March is "a women-led movement providing intersectional education on a diverse range of issues and creating entry points for new grassroots activists & organizers to engage in their local communities through training, outreach programs, and events," according to womensmarch.com, the official website of the Women's March. The movement takes place in various cities such as NYC, Washington D.C., LA, Chicago, Palm Beach and more, as well as globally, in cities such as Rome and Ottawa. The march isn't only comprised of women, however, but of people of any gender or sexuality. One year ago, people protested against the inauguration of Trump and this year, the march marked the one-year anniversary of this inauguration. Several people from our school attended either the NYC march or the one in D.C., including Maia Dimant ('21), Ryan Chang ('21), Naomi Friedman ('18), myself, and more.
"I did the women's march [in D.C.] last year, the women's march [in NYC] this year, and a Love Trumps Hate march right after the election last year," said Friedman.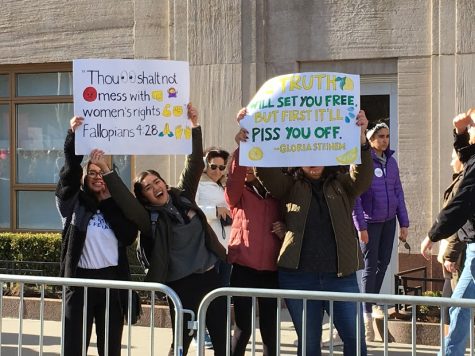 Another student who has participated in the women's march is Hailey Ryan ('18). She has only been able to attend the latest Women's March because of SATs last year, but she still has been greatly affected by it.
"The Women's March is unlike anything else I have been a part of. Something about marching in solidarity with so many diverse people, all with different backgrounds but all fighting for one goal, was super inspiring."
Aside from the moving experience from this demonstration, the reason Ryan marches doesn't only involve women's rights: "I march for all the people across the globe who haven't been given equal opportunities simply because of the skin they were born in."
"
I march for all the people across the globe who haven't been given equal opportunities simply because of the skin they were born in."
— Hailey Ryan
Ryan encourages everyone to "try and go to a march at least once in their life. It is truly an incredibly inspiring and empowering experience that will open your eyes and warm your heart."