10 Pieces of Advice from 10 Current Seniors
As the 2018 school year comes to an end, a new batch of students—the Class of 2019—rises to the top of the food chain as they approach their senior year, a time often regarded as one of the most difficult periods of high school.  Many people have a hard time balancing everything during the beginning of their senior year, whether that balancing requires finishing their college applications, maintaining their grades, or simply keeping up with their social life. To help the Class of 2019, I asked ten seniors to give one piece of advice as they approach the last step of their secondary education.
Kate Correa ('18) says, "Definitely start your college applications as early as possible. Supplemental essays and applications are very stressful, especially when you're getting close to important deadlines. Writing my college essay in the summer helped me so much in the long run. I'd also say to enjoy every moment—even the bad ones—because you're never going to relive it. Lastly, don't stress and get involved in drama because it's not worth it and you should enjoy your last year."

Dani Sunshine ('18) says, "Don't stress about college. Yes, it's important to do well and actually try during first—and second—semester, but you will end up where you belong! There's no need to be stressed out about going to the best school with the best academics or the best social life because you will always end up where you belong and ultimately come to love it."

Sydney Lerner ('18) says, "Pace yourself. College applications seem daunting, but if you get started on them as soon as you can you'll be a lot less stressed."

Jack Goldsmith ('18) says, "Don't become a second-semester senior until you're actually a second-semester senior. The first semester of senior year is not only the hardest semester of high school, but it's also extremely important. Don't slack off until you are committed to college and it's actually semester two."

Frank Preolo ('18) says, "Don't put off college applications and definitely get a head start on them. Also, enjoy your senior year because it goes by really quickly."

Fay Vaynshenker ('18) says, "A lot of the stress that comes from [your senior year] is what other people say, so try to not let their words get to you. Also, your schools are your schools and you are not in competition with anybody else. The only person you're competing with is you."

Lizzy Palo ('18) says,  "Really try to prioritize your time well and don't completely give up after committing."

Ariel Fromm ('18) says, "Talk to new people and enjoy it. It's the last year of your childhood."

Rachel Levitt ('18) says, "In retrospect, my senior year went by in the blink of an eye. When you're living in the moment, it might seem like it's dragging on forever but, trust me, it's not. Cherish every moment and every last memory because before you know it everything on the 'senior year checklist' is crossed out and done and you're getting information about graduation."

Evan Oberthaler ('18) says, "Sometimes we like to give ourselves anxiety—about where to go, what to major in, who to roommate with—and a lot of it is unnecessary. In Tenafly, we strive and love to have everything planned out, but that isn't really how life works. You need to decide what's worth your worries, and what you can let go of and let fate decide. If you're beating yourself up about an ED, decide to RD/EA and then you're not bound and the stress is gone. Accept that certain things are not in your control and not everything has to be planned."
About the Writer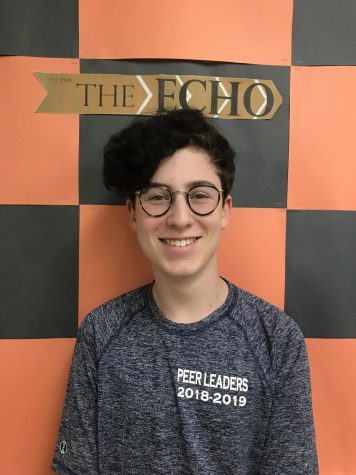 Evan Hecht, Editor-in-Chief
Evan Hecht ('19), Editor-in-Chief alongside Nicole Shaker, has a passion for journalism. He is excited to continue the legacy of his sister, a former...