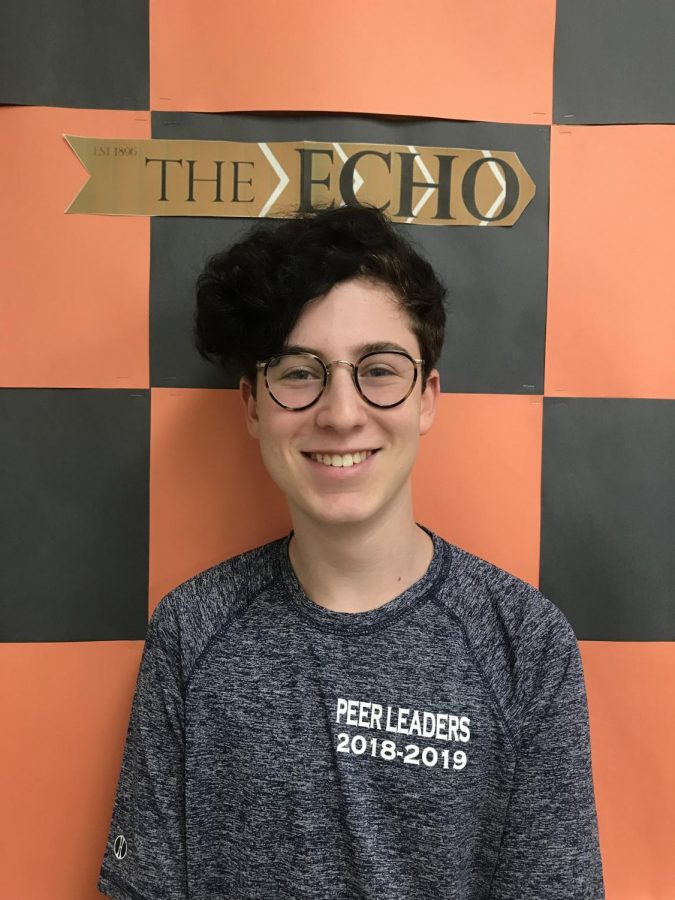 Evan Hecht ('19), 
Editor-in-Chief alongside Nicole Shaker, has a passion for journalism. He is excited to continue the legacy of his sister, a former editor of
The Echo
. Evan enjoys writing arts and entertainment features, as well as opinion pieces that communicate his passion for social justice. He can't wait to continue his contributions to
The Echo
and is excited to see it grow.
Evan Hecht, Editor-in-Chief
May 22, 2019

The Best and Worst of the 2019 Met Gala

(Story)

May 04, 2019

Types of Promposals

(Story)

Apr 08, 2019

A Grand Reopening

(Story)

Mar 25, 2019

Bergen County Debate Invitationals Conclude 2018-19 Debate Season

(Story)

Mar 06, 2019

An Olympic Special

(Story)

Feb 14, 2019

New Jersey Passes Law to Require LGBTQ+-Inclusive Curriculum in Public Schools

(Story)

Feb 06, 2019

The Hypocrisy of Super Bowl LIII's Halftime Show

(Story)

Jan 17, 2019

Gov. Ball Lineup Stirs Up Opinions Among Fans

(Story)

Dec 19, 2018

"Thank U, Next": Ariana Grande's Ode to Her Exes

(Story)

Dec 13, 2018

Combating the School WiFi

(Story)

Nov 13, 2018

Invasion of Privacy or Protecting the Students? The Logistics of Cameras in the Senior Lot

(Story)

Nov 04, 2018
Oct 09, 2018

It Lives in the Vending Machine

(Story)

Oct 02, 2018

Dancing Queen: Cher's Modern Take on ABBA Classics

(Story)

Jun 06, 2018

Will You Choose to Ride the Wave or the Current?

(Story)

May 29, 2018

Dirty Computer: a Futuristic Look at the Present

(Story)

May 23, 2018

10 Pieces of Advice from 10 Current Seniors

(Story)

Apr 06, 2018

The Stress of Junior Year: Standardized Testing

(Story)

Mar 14, 2018

How 40 Shades Changed the Cosmetic Industry

(Story)

Mar 11, 2018

What's Clouding the Minds of Tenafly High School Students?

(Story)

Mar 06, 2018

America's Sweetheart, Adam Rippon

(Story)

Feb 09, 2018

Sickness Strikes Tenafly: Ways to Get Through the Flu

(Story)

Jan 18, 2018

Start Your Engines! RuPaul's Drag Race All Stars Three Shifts into Gear

(Story)

Dec 28, 2017

Pop's Satire on Pop: Who is Poppy?

(Story)

Dec 11, 2017

Our Town or That Town

(Media)

Nov 22, 2017

The Ignorance of Living: A Review of Our Town

(Story)

Nov 16, 2017

The Old Taylor Has Picked up the Phone

(Story)

Oct 06, 2017

Defining a Terrorist

(Story)

Oct 05, 2017

The Rise of the Supermodel of the World: A Look into the Career of RuPaul

(Story)