Harry Styles Calls It Quits with Girlfriend Olivia Wilde
After almost two years together, English pop star Harry Styles and his girlfriend, actress and director Olivia Wilde, have broken up. This announcement comes just two months after the release of Wilde's movie Don't Worry Darling, in which Styles starred.
Since they were first spotted holding hands in January of 2021, the ex-couple has faced extreme amounts of online hate with many claiming they were not right for each other, citing their 10-year age gap as evidence.
Styles famously began his career as the lead singer of the British boyband One Direction. When the band split in January of 2016, Styles began his solo career by releasing the album Harry Styles in 2017. An instant success, Styles appealed to the former One Direction fanbase and has also welcomed newcomers to his mostly female audience. In 2019, he released Fine Line, which received a Grammy nomination for Best Pop Vocal Album. This year, his new album, Harry's House, propelled him into a three-year global tour, Love on Tour. Set to play 167 shows across five continents, Styles has not exactly had a lot of time to spend with his girlfriend. 
In addition, throughout his career, Styles has been met with countless rumors regarding his sexuality. During his time in One Direction, many speculated that he was dating bandmate Louis Tomlinson, giving them the ship name Larry. When his solo career took off, his ostentatious, feminine dress and refusal to discuss his relationships or label his identity allowed these rumors to persist. He also plays Tom, a gay man, in the movie adaptation of the novel My Policeman by Bethan Roberts. Claims of Styles's queerbaiting have also taken off. Queerbaiting is "a marketing technique for fiction and entertainment in which creators hint at, but then do not depict, same-sex romance or other LGBTQ+ representation." In response to these rumors, Styles said, "Sometimes people say, 'You've only publicly been with women,' and I don't think I've publicly been with anyone…If someone takes a picture of you with someone, it doesn't mean you're choosing to have a public relationship or something." The private nature of his relationship with Wilde has not satisfied the members of his devoted fanbase, and it is expected that fans will continue to make up rumors about Styles's life until they are given answers.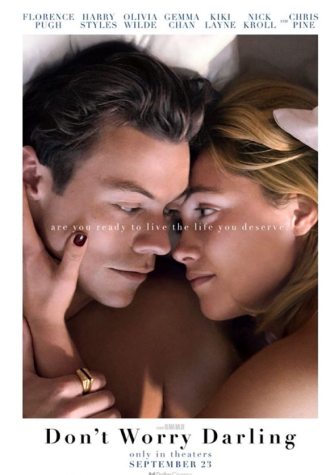 Enter Don't Worry Darling, a movie that marks Wilde's second time directing a feature film, starring none other than her boyfriend, Styles. This film was met with much controversy before it was even released. Shia LeBeouf was originally set to star in Styles's role but was supposedly fired by Wilde. After this was revealed, LeBeouf claimed that he was not fired but that he had quit: "Firing me never took place, Olivia." In addition, there are reports that there were tensions between Wilde and Florence Pugh, the actress playing opposite Styles. Pugh was reportedly uncomfortable with Wilde and Styles' intimate relationship on set as while Wilde was still in a relationship with Jason Sudeikis. These controversies were not assayed by the 39% rating the movie received on Rotten Tomatoes. 
All of this speculation and drama has come to a stark close as Styles and Wilde have made their breakup official. They claim that they remain good friends. This is a message to all of Styles's 64 million monthly listeners: Harry Styles is single!