Iranian Soccer Player Ami Nasr-Azadani in Danger of Execution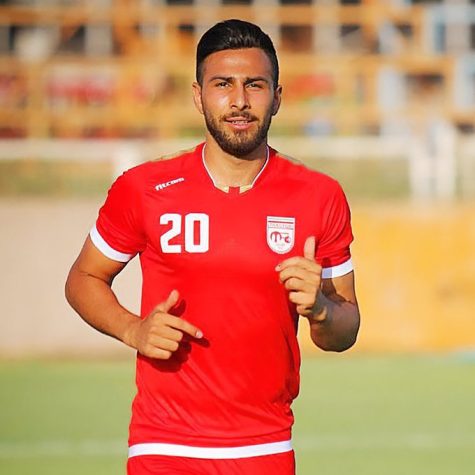 While the 2022 World Cup has come to an exciting and anticipated end, we must take a moment to reflect on what is unfortunately going on around the world. In Iran, soccer player Amir Nasr-Azadani is currently in danger of execution for supporting women's rights causes in Iran. He has continually been active in protests and advocating for women's freedoms and the basic rights of citizens.
Nasr-Azadani, a 26 year old soccer player with immense talent, has played on many well known teams including the national youth teams, Rah-Ahan Tehran FC, Tractor SC, and Gol-e Rayhan. FIFPRO, which is the global union for professional soccer players, tweeted that it is "shocked and sickened" by what is happening and the thought of Nasr-Azadani being executed. In addition, it wrote that it "stand[s] in solidarity with Amir and call[s] for the immediate removal of his punishment." According to IranWire, he has been accused of 'moharebeh,' which means 'animosity with God.'
In Iran, protests have been repeatedly occurring since September, when 22-year-old Masha Amini died after failing to comply with the Iranian government's dress code for women and not wearing her hijab. This event has caused distress throughout the country and resulted in the death of three Basij members on November 17. Nasr-Azadina is being sentenced to be hanged for their deaths and for his active role in protests, even though it was reported that Amir was not in the area where the three men were killed. There was evidence from other protests that he had only been protesting verbally, and had not been accused or involved in any violent actions. In Iran, 488 people have been killed since the protests began in mid-September, and over 18,000 people have been detained by government officials. So far, two people have been executed because of this activism.
In America, we are lucky enough to have the resources, freedoms, and protections to keep us safe and allow us to openly voice our opinions on prevalent issues in society. However, it is important to recognize that there are so many other nations and areas around the world that are not as fortunate. Regarding Nasr-Azadani's possible execution, we must take action like the FIFPRO and share our thoughts in order to spread awareness. And in countries like America where we have so much freedom and liberty, there is no excuse not to get involved and fight for the rights of people around the world who can't do so themselves.