On Tuesday, November 14, 2023 there was a rally held at the National Mall in Washington D.C. that will be remembered as the most significant Jewish event that has occurred in the United States of America. According to Stand With Us, almost 300,000 people attended the rally, supporting Israel in its time of need during the Hamas vs. Israel war. It was an emotional, beautiful, and inspiring day with people from all around the U.S. coming to the #March to rally for Israel. People were holding signs to honor the lives taken in Gaza, and there were signs for hope from all over the world.
Arriving at the rally from New Jersey, I didn't know what to expect other than the fatigue from a 5-hour drive. There were a few hundred buses full of people that were on their way to D.C. Along the way, we were handing out shirts and necklaces to the people on the bus, so that we would all show up fully dressed and ready to showcase our love for Israel and our hope for the release of the hostages that are being kept in Gaza. 
When getting off the bus, the first thing we saw was hundreds of thousands of people beginning to walk with Israeli flags to the metro station. Going into the metro, I suddenly feel safe, surrounded by people that I didn't know, but somehow I trust them. I wasn't scared or frightened by the crowd. I felt embraced in the love that was floating around. Inside the train car, people stood while singing Hatikvah (The Hope) on the way to the march. There wasn't a single  person who didn't sing. It was a showcase of unity and passion.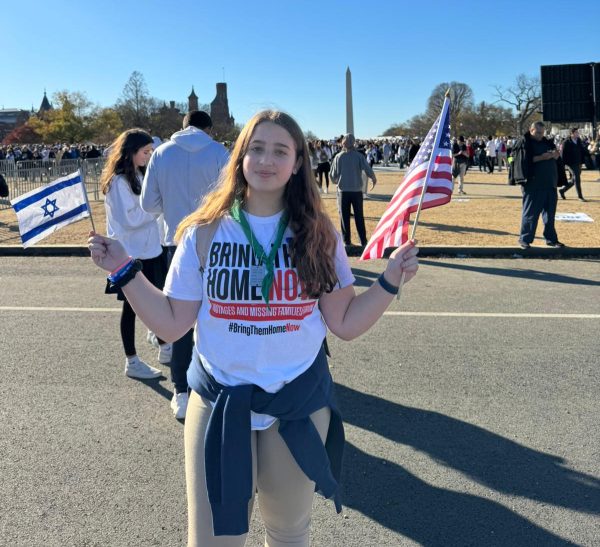 On stage, there were amazing speakers but one that most caught my attention was Mika Alexander ('24), a student from our very own Tenafly High School, who was giving a powerful speech in front of thousands of people in honor of her brother, Edan Alexander ('23), a THS alumnus who has been held hostage in Gaza for the past 39 days. "We need to bring Edan and all the other hostages home," Alexander said. These words reached my heart as these people have been stuck without their loved ones for way too long, and they need to come home.
Standing in between the Capitol building and the Washington monument was a crowd of people united as one. Flags held up high in the air as we sang peaceful songs and chanted "Bring Them Home!" and "Am Yisrael Chai!" We were not filled with hate, and we were not aggressive, but we will also not stop protesting until all of the hostages are brought home and Hamas is defeated.