Learning Healthcare on TikTok: Is It the Right Choice?
For many of us, TikTok has completely changed our online experience. The multi-media app allows users to share videos effortlessly, giving creators total control over the content they post. It was recognized as the most popular app in 2019-2020 and has become even more widespread among adolescents and Gen Z users in recent years. But unfortunately, while TikTok may seem like an innovative way to share knowledge and resources, in reality, when it comes to sexual education, it has been subject to disinformation.
The Chinese-owned app, originally named Douyin, was launched in 2016 but was later changed to TikTok in the hope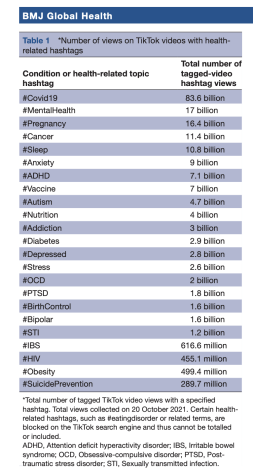 of gaining global attention. Now, operating as #1 in app stores, the social media platform has been notorious for its health advice, including recent topics such as COVID-19, mental health, and sexual education. These video clips are then available to billions of viewers worldwide.
According to the article "Sex Education on TikTok: A Content Analysis of Themes," published earlier this year in the peer-reviewed journal Health Promotion Practice, "While teens benefit from a private space to explore these themes, passive video consumption does not provide avenues to ask questions or seek additional information from a trusted resource." The recent study has urged caution on how much trust should be put into sources presented on social platforms and the risks of false information in our generation.
The issue has been especially harmful to young adults who depend on this easily accessible app as their key source of sexual health information. Although most schools offer the fundamentals regarding sexual education, there is still a large gap in all 16 topics advised by the CDC. According to Allure, "The lack consistent of sex education across the country is also often coupled with shame and guilt that can manifest in different ways. It can be a teenager searching the Internet for answers and trusting the word of someone who looks like them." This is where TikTok emerges into the picture. "The vast majority of videos are user-generated content, with a small subset produced by private or public entities, like a company marketing a product. As a result, not all videos provide factual information," the study reported. However, even people who aren't deliberately searching for these videos have a high probability of seeing them through their "For You Page.
The home page of TikTok, AKA the "For You Page," is where the individualized content comes streaming in and where creators display their clickbait headings. The videos can vary from related content you've looked at to the most viral videos of the day. Statistics from an Echo student poll suggest that eight out of thirteen TikTok users at the high school have seen sex education videos on their "For You" page. The poll implies that relatively over half of Tenafly High School students have come across content that can put them in a vulnerable position to false knowledge. 
To emphasize the concern, the Community Guidelines, which present TikTok's code of conduct, do not always manage these deceiving videos. And between the billions of healthcare posts blended in with the growing number of daily videos uploaded onto the app, there is no way to gain total control over these viral videos. Although many health care providers and professionals have combated misinformation by uploading onto the expanding community, "there is no guarantee a user will ever encounter these corrective videos," as the article explained. 
As new users join social media every day, the study has publicized the questionable future of not only TikTok but all social platforms in their position of spreading public health information.