Tucked away in the quiet streets of Tenafly, a new coffee shop called "Awe & Wonder" has recently opened on Highwood Ave. If the flocks of high school students walking into school clutching their Dunkin'–emblazoned plastic cups haven't made it clear enough, Tenafly is full of caffeine addicts. Some may argue that our town doesn't need a new java hut to get just another iced latte, yet Awe & Wonder is an amazing addition to town as it sets itself apart from the coffee community. I took a chance this past weekend to give this chic cafe a try, and I can truly say my experience was filled with awe and wonder. With their eye for aesthetics and their unique variety of drinks, this coffee shop is something everyone has to check out, and here's why!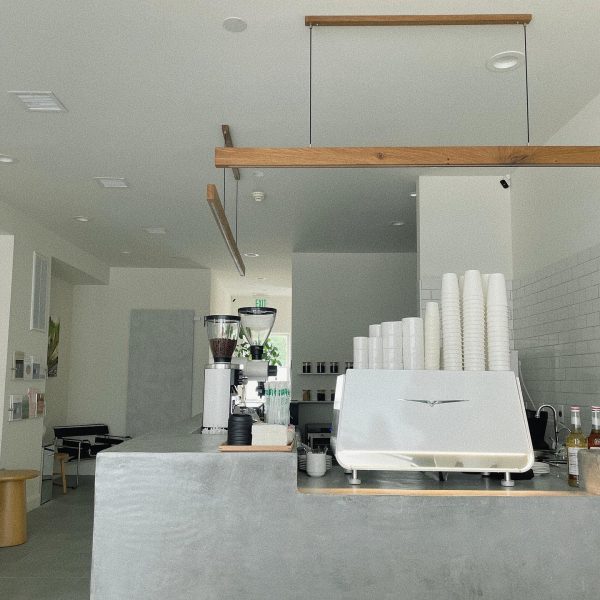 As you enter the new establishment, you are instantly captivated by the ambiance—an inviting atmosphere that is furnished to fit their minimalist dreams. The interior design team does an skillful job at creating a serene environment that encapsulates the clean aesthetic. The simplicity of the entire coffee shop really drew me, as it was unlike any other cafe I have come upon. The modern and peaceful environment Awe & Wonder creates contrasts with the assumptions we make when we think of a coffee shop: a room filled with restless baristas and "Karens" complaining that their order is messed up. The light and airy vibe is up to date with the trend, making it the perfect spot to snap some cool cappuccino close-ups. They really know how to appeal to their customers through this contemporary feel. Awe & Wonder's artsy vibe is enough to put a visit over there on your to-do list, but let's get to what really matters: the coffee.
Now, I wouldn't go out of my way to call myself a coffee connoisseur, but I guess I could be categorized as a caffeine fanatic. I can't remember the last time I went without a latte of some kind, which I think makes my palette perfect to judge Awe & Wonder's selection of drinks. I decided to order a sweetened iced matcha latte with almond milk and a small espresso with a dash of sugar. Starting with the matcha, it was not only vibrant in color, but vibrant in taste as well. Each sip had the earthy green-tea notes I craved, which were balanced out beautifully with the lightly frothed almond milk. It was rich and smooth, the perfect midday pick-me-up. Moving on to the espresso, it created a satisfying baseline to what their brews can offer. The roast left a bittersweet taste on my tongue while still carrying an enticing aroma to my nose. Overall, I was extremely impressed with the drinks they served. Maybe Starbucks should start fearing the competition of this small, local business, since its coffee quality out-beats the chain's coffee and beverages by a long run!
While the main focus was the drinks, I decided to taste-test some of the baked goods alongside the coffee. I ordered a classic chocolate chip cookie topped with flaky sea salt and a simple butter scone. The butter-infused scone softly crumbled, showing me how it was baked to perfection. As the flakes of sea salt cut the sweetness, the cookie wasn't overly decadent and complimented the espresso splendidly. Awe & Wonder expands its scope from a coffee brewery to cafe and bakery. This versatile bistro excels in not only its drinks, but its baked goods as well.
In Tenafly, where coffee is more than just a drink—it's a culture, Awe & Wonder is a breath of fresh air for coffee addicted Berge
nites. Perhaps, you should stop by the cafe for a study sesh and accompany it with a not-so-ordinary beverage. Whether you're picking up your morning elixir or wanting a hip spot to hang at, Awe & Wonder is a remarkable local business that has a little something for everyone. So, next time you thirst for that cup of cold brew, make your way to Awe & Wonder to let the magic behind the mugs enchant your senses.