"Thank U, Next": Ariana Grande's Ode to Her Exes
Hang on for a minute...we're trying to find some more stories you might like.
When Ariana Grande first released her hit single "Thank U, Next," the song rocketed to the top of the charts and broke multiple streaming records. The song came unbeknownst to fans and shocked millions worldwide with the calling out of her ex-boyfriends Big Sean, Pete Davidson, and even Mac Miller. It's to no surprise that an epic song would have to have an equally, if not more, epic music video. In the video, Grande called upon four great films of the late 90s/early 2000s—Bring It On, Thirteen Going on Thirty, Mean Girls, and Legally Blonde—to tell the story of her love life and how she's moved on.
The video opens up parodying the iconic Mean Girls scene in which the students of North Shore High recall things they have heard about Regina George, but instead of George, our subject is Grande herself. She uses this scene to poke fun at herself by having people say, "One time on Twitter, I heard Ariana was pregnant so I got pregnant at the same time so we could be pregnant at the same time. Turns out it was just a rumor." Or "Ariana broke off an engagement  so I found a guy to propose to me and I broke off an engagement." This scene features people like her longtime friend and famous YouTube star Colleen Ballinger, pop star Troye Sivan, original Mean Girls actor Jonathan Bennett, and many more. This segment is filled with many funny Mean Girls references, such as the recreation of the famous "Jingle Bell Rock" scene from the movie with celebrity momager Kris Jenner filling in for Amy Poehler. Grande also has her very own Burn Book, similar to the one The Plastics had in Mean Girls. Grande dedicates a different page to each boyfriend and writes things like "sorry I dipped" on the page with Pete Davidson or "great dancer" on the page for Ricky Alvarez, ex-boyfriend and dancer.
Next, Grande transitions into Bring It On. She assumes the role of Torrance Shipman, the head cheerleader and the protagonist of the iconic early-2000s film. Grande uses Bring it On by drawing inspiration from the flashy dance scenes in the movie and the iconic scene of Torrance dancing around her room to the mixtape made for her by her crush Cliff. Obviously, Grande's cassette isn't from Cliff but is instead used as a symbol of self-love. Grande looks down at her cassette and sees the words "To: Ari, From Ari." This is in direct reference to her lyric "plus I met someone else, / we having better discussions, / I know they say I move on too fast,/  but this one gon' last, / 'cause her name is Ari, / and I'm so good with that." Following her self-gifted cassette, the obvious cheerleader-esque dance sequence ensues.
The video closes with the recreation of scenes from 13 Going on 30 and Legally Blonde. We see a grown-up Grande recreating the scene with her looking into her childhood dollhouse and suddenly flashing back to the Legally Blonde sequence, as Grande arrives at Harvard in Elle Woods' black Porsche convertible in an all-pink outfit. We see Grande recreate iconic scenes from Legally Blonde, such as Elle working out on her elliptical while doing work on her Macbook—even paying extra close attention and using the original early 2000s version; reading law books on the green of Harvard while scantily clad—if you pay extra close attention, you can see Grande reading a book on immigration law, a little easter egg nodding at the current political climate; and obviously the iconic bend and snap. Jennifer Coolidge, the actress who played Paulette in Legally Blonde, makes a cameo as she reprises her role as Paulette to console a heartbroken Grande. There's a fun little tongue-in-cheek moment where they discuss the sizes of things their previous lovers had (teeth, get your mind out of the gutter). The video ends with Grande and the rest of the members of the salon bending and snapping, obviously nodding to the iconic dance move Elle Woods coined.
"Thank U, Next" became one of the biggest events in pop culture during 2018. With the anticipated release of Grande's second album of the year, consequently titled Thank U, Next, fans hope to see more fun pop songs like "Thank U, Next."

About the Writer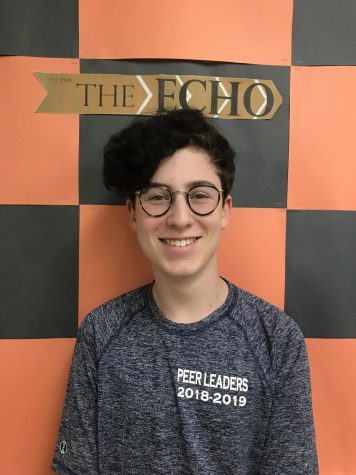 Evan Hecht, Editor-in-Chief
Evan Hecht ('19), Editor-in-Chief alongside Nicole Shaker, has a passion for journalism. He is excited to continue the legacy of his sister, a former...