Experience the Tour of the Year on Your Computer Screen: Reputation Stadium Tour
Hang on for a minute...we're trying to find some more stories you might like.
Taylor Swift Reputation Stadium Tour Movie Trailer
Taylor Swift fans, also known as Swifties, who were not able to secure tickets to the singer's fifth world tour, Reputation, are now able to live through a similar concert experience with Swift's latest movie, Taylor Swift: Reputation Stadium Tour. With just a Netflix subscription, fans who weren't able to attend the live performances can get the full experience by watching the two-hour-long concert that was filmed at the Dallas show while waving their glow sticks from their living room couch.
This documentary has received support from both fans and non-fans. Because of the fiasco with the Kardashian-Wests in 2016, Swift has gained a particular view from the public. In response, Swift released her album, Reputation, which was a response to Kim Kardashian ruining her 'reputation' by exposing her. Because of the drama she was involved in, most of the public had the mob mentality of disliking Swift because of her past. However, this documentary has changed peoples' views of her. Ellie Bate recently released an article titled, "People are Changing Their Minds About Taylor Swift After Watching Her Netflix Special and Honestly, It's About Time" on Buzzfeed. PopSugar also put out an article titled "People are Changing Their Tune About Taylor Swift After Watching Her Reputation Tour on Netflix." Fans were able to see Swift's happiness while performing and were able to see how Swift doesn't let media portray her how they want. 
Sally Kim ('20) attended the concert at MetLife Stadium on July 22th, the tour location that brought in the most revenue out of all 53 shows: over $22 million dollars. Kim described the show as "the happiest two hours" of her life. "I love Taylor because she makes you feel like she is only talking to you, even when there're 60,000 people besides you. The set, lights, costumes, everything was just so perfect," says Kim. Swift broke records this tour, becoming the first woman to headline three consecutive nights at Metlife, according to nj.com. Swift performed songs from the Reputation on the tour, mixing in throwback songs and top hits as well. She had several collaborations with special guests, including Camila Cabello and Ed Sheeran. For every show, Swift played an acoustic version of a song that she typically doesn't perform anymore. This allowed for a more intimate and unique concert for the fans. "I love how Taylor writes amazing lyrics that other people can connect to. She stays connected with her fans and invites them to her house sometimes. She does free meet and greets, she handpicks fans from the crowd to meet her backstage, she just makes you feel special," Kim said. "For the surprise song for my show, she played "Enchanted," which is my favorite song." Swift consistently uses the power of music and her talents to touch her fans' hearts in a unique way.     

About the Writer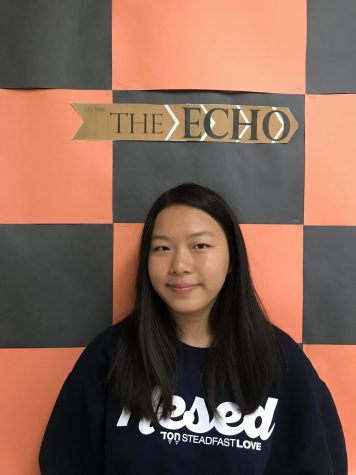 Priscilla Song, Managing Editor
Priscilla Song ('20), Managing Editor, enjoys writing and reading. In her free time, she also likes to spend time with her family and participate in...